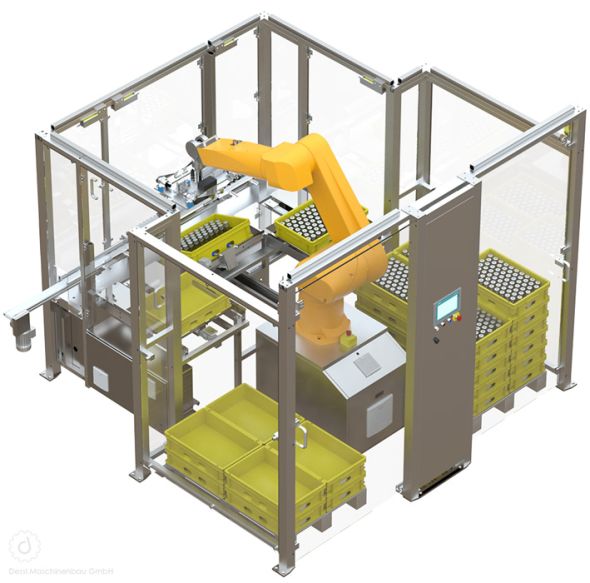 Dessl Collector
THE SOLUTION FOR INTERMEDIATE STORAGE OF VIALS IN STACKABLE PLASTIC BOXES. PRODUCTION INCREASES OF 20% WITH THE DESSL COLLECTOR.
Cleaning cycles in the clean room diff er from those of the packaging.
Filling and packaging have diff erent quantity outputs.
In addition, there is the need to store production batches in stability intermediate storage until they are released by quality assurance.
The traceability of batches in the various production stages is becoming more important, which is why the Collector can also be expanded to include Track & Trace functionality.
Der Dessl Collector optimizes:
fully automated loading and unloading of stackable containers on pallets
utilization of production capacities in the clean room
efficiency in the production steps after filling
separation of the primary packaging from the secondary packaging. This avoids mixing up products in the production areas
the bundling of small quantities (stability batches, research, studies, sales) into one production quantity
Patented storage boxes with clamping bars prevent the containers from tipping over, absorb bumps during transport and secure their position. This means that lines on diff erent fl oors and buildings can also be connected. The boxes are stored on Euro pallets.
performance Data:
depending on the container size, up to 24,000 vials per hour
storage capacity in the system / time 1 cycle = 1 pallet.
Examples:
50H vial: 1 pallet = 5,184 pieces 36 min until pallet change
6H vial: 1 pallet = 22,800 pieces 70 min until pallet change
Operation:
simple format change within max. 10 minutes by a trainee
formats are selected on a control panel via "recipes"
loading and unloading with the same system
product identification with camera/print station - optional
required floor space only 2.95 m × 2.95 m
AUTOCLAV-LOADING
Autoclaving of containers can also be automated with the Dessl Collector. Here we have developed stackable stainless steel containers that can be brought into the autoclave with a pallet or a mobile underframe. We can map the number of vials per layer and the distance between the layers according to the existing process.

The Collector in Action
STÄUBLI Robotics: Robotics Customer Voices: Dessl Maschinenbau GmbH
Media
Pictures